Welcome to 2017! We are ramping up to the Grand Exhibition and are excited to see where the teams have gone with their games!
CUBED Spotlight
We wanted to shine a spotlight on a local board game design group, CUBED, which stands for Champaign-Urbana Board game Engineers and Designers. It is a group of tabletop game designers, publishers, and playtesters in the East Central Illinois area. They emphasize creation, collaboration, and execution of quality board and card games, and meet regularly twice a month. This group is a great resource and network to connect to local game makers!
Their meetings consist of:
Discussion/special topics meetings on the first Monday of every month
Open playtesting meetings on the third Sunday of every month
Join the Facebook group for more up to date information!
Upcoming Events
January Game Night – Monday, January 16th
Hyatt Place @ 6:30pm
Take a break from your busy schedule and get to know your fellow game enthusiasts! This game night will be a playtest night so it will be a great chance to test out your prototypes with the community.
CUDO Plays Game Night is open to everyone! Spread the word and let's have a great time. Whether you're a serious gamer or just looking to relax and socialize, we'd love to see you there!
Critical Review – Saturday & Sunday, January 21st-22nd
Champaign Library @ 10am-6pm & 1pm-6pm
A session for you to bring your near–complete board games to our team for critique. Members of the committee will be available to give you insight into how to make your board game the best it can be.
CUDO Plays @ Winter War – Sunday, January 29th
Hawthorne Suites
Is the snow and cold getting you down? Fight it off at Winter War! Teams from the CUDO Plays competition will be showing off their game at Winter War, at the Hawthorne Suites in Champaign! Come see how far the teams have come!
Our event is FREE to the public, but you must purchase a badge to access other areas of Winter War.
CUDO Plays Recommends
This week we recommend the game, Quantum!
In Quantum, each player is a fleet commander from one of the four factions of humanity, struggling to conquer a sector of space. Every die is a starship, with the value of the die determining the movement of the ship, but also its combat power – with low numbers more powerful. So a [ 6 ] is a quick but fragile Scout and a [ 1 ] is a slow but mighty Battlestation.
You win by constructing Quantum Cubes – massive planetary energy extractors. Each time you build a new one, you can expand your fleet, earn a new permanent ability, or take a one-time special move. The board itself is made out of modular tiles, and you can play on one of the 30 layouts that come with the game or design your own. The ship powers, player abilities, and board designs combine to create a limitless set of possibilities for how to play and strategies for how to win.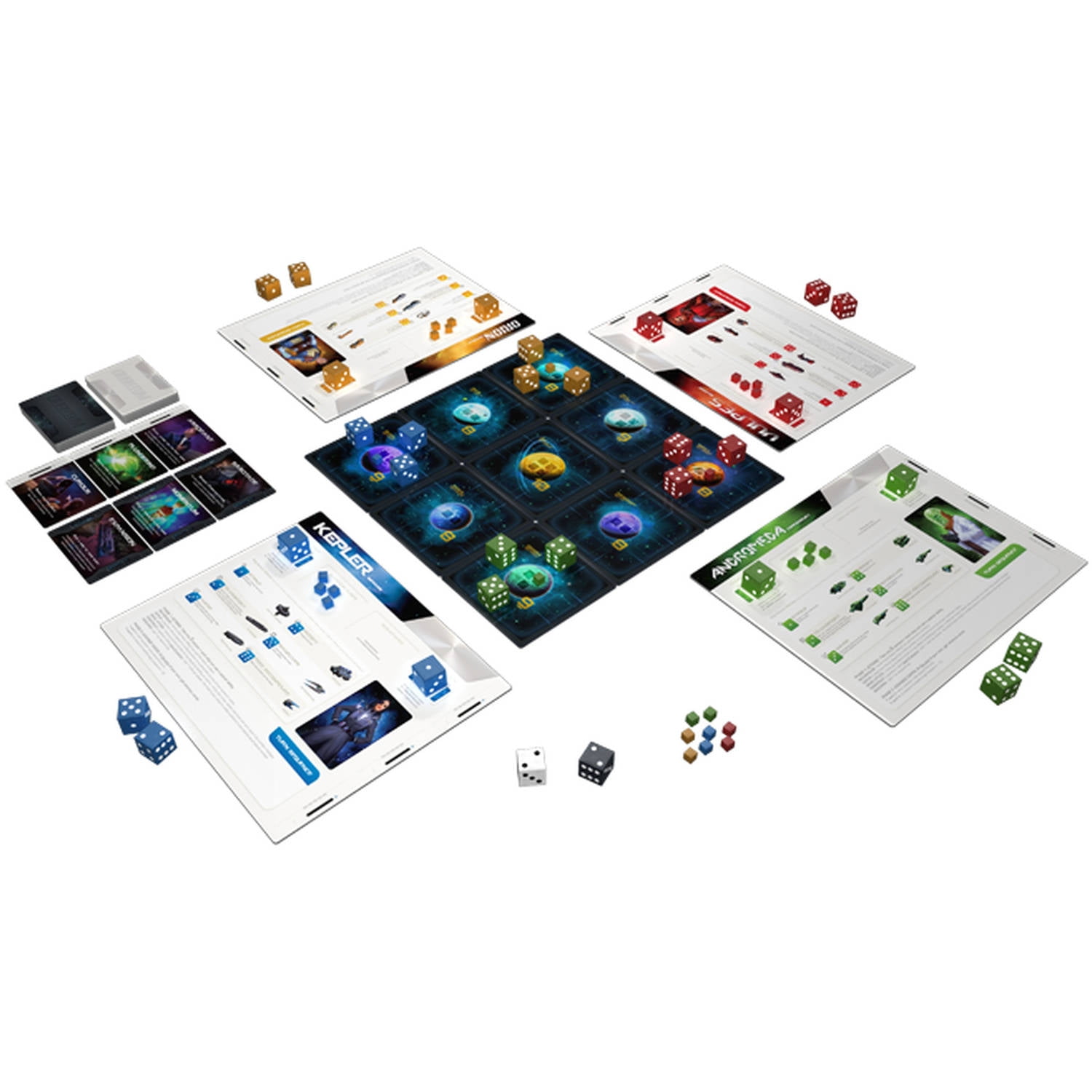 With elegant mechanics, an infinity of scenarios, and easy-to-learn rules that lead to deep gameplay, Quantum is a one-of-a-kind game of space combat, strategy and colonization that will satisfy both hard-core and casual players. A neat game that plays with 2-4 players in about 60 minutes.